Mindfulness and Acceptance Can Ease Your Emotional Distress
April 23rd, 2014 (No Comments)
Mindfulness is a two thousand year old traditional meditation practice for easing suffering and emotional distress.  The Buddha attributed suffering to our natural tendency to become attached to positive experiences, to try to prolong them, and to push away or avoid direct, open, and unguarded contact with what is unpleasant.  He taught mindfulness as a way to awaken ourselves  – to "know things as they are" – by devoting purposeful attention, without judging, to the unfolding of present-moment experience in order to counteract the deep-seated distress that can fill our lives.
Worry Too Much? – Sticky Thinking Drives Anxiety and Depression
April 23rd, 2014 (No Comments)
Therapy for Anxiety and Panic Attacks
Do You Worry Too Much? Sticky thinking is the culprit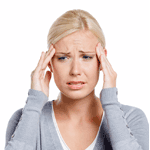 Sometimes we indulge in a moment or two of worry or feel a little down.   At other times, we might discover that negative thinking has a grip on us or that we're really uptight or even panicky, our minds restless and disturbed.   Maybe we realize that we don't seem able to stop worrying or that we're gripped with fear.
Phobias: Cognitive-Behavioral Therapy for Phobias
April 23rd, 2014 (No Comments)
Cognitive-Behavioral Therapy for Phobias
Phobias – the basics
Phobias, such as agoraphobia and social phobia, are fears of specific objects or of situations, events, or activities that lead phobia sufferers to avoid them or engage in them with trepidation. The elements of a phobia are anxious thoughts and avoidant behaviors. In order to be considered an anxiety disorder, a phobia must interfere with the person's ability to function. Discover how you can get cognitive-behavioral therapy for phobias.